In January, AF Bostäder is giving away a belated Christmas gift. And we are not speaking about a soft one, but a hard and delightful rent increase.
"What would a new year be like without a rent increase?" ‒ Is a motto which AF Bostäder seem to stick to. As of first of January 2015, the rents will increase with 2 per cent, a phenomenon, which is getting close to become a tradition in this town. It is the eleventh year in a row this happens, even though the inflation is close to non-existent in Sweden. In absolute numbers it means that the tenants will have to pay, depending on previous rents, between 63 and 110 SEK more a month.
There will be a yearly increase
Henrik Kranz, CEO at AF Bostäder, does not think it is a trend that will be reversed for the time being. As for now his tenants will have to expect a yearly increase in the future too.
"We'll continue to increase the rents. The negotiations will have different results from time to time though," says Henrik Kranz.
What do the increased rents depend on? According to Henrik Kranz, there are primarily two things that the rents are suppose to finance.
"The first thing is the increase in expenses that we suffer from. Here I talk about increased expenses for heating, electricity, media and so on. And here I also include the increase in salaries and entrepreneurs we hire have increased the price for their services. The other part is the maintenance project we are working on and the new production of buildings which are rather substantial in our case," says Henrik Kranz.
But will the students be able to notice these improvements of their homes?
"I hope that the students notice what we do all the time. We have two large projects going on at Kämnärsrätten and Vildanden. We are also doing up corridors and we are working on a giant project, which involves an improvement of kitchenettes to modern standard. You can also notice that we have building cranes everywhere," says Henrik Kranz.
At Parantesen you will from now on have to pay about 3,000 a month. But many of the rooms are missing showers and such. Is it reasonable to pay that much each month?
"Yes, but you have to take in to account that you only pay rent for 9 months. So, in total you don't have to pay more than about 27,000 SEK a year. But Parantesen is a good example, because I think that you get quite a lot for your money anyway. The rent is rather low, and even though it's not our best standard, it's a reasonable price.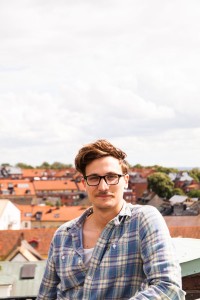 It could be worse you mean?
"Yes"
The housing representative likes the rent increase
What is Pierre Andersson's, AF Bostäder's housing representative chosen by the students, opinion about the increased rents? For or against? Answer: He inclines towards the first alternative.
"Yes, usually you have rent increases every year, so there's nothing startling about that. But I definitely think that an increase of 2 per cent is reasonable."
You don't see any problem with that at all?
"Of course a rent increase is not the best thing that could happen. But still we have among the cheapest student apartments in Sweden and that's why I think an increase would not be out of place," says Pierre Andersson.
Text: Marcus Bornlid
Translation: Mia Söllwander